Barcelona to Fes – September 16th – 17th 2017
We left Andorra in the morning and were driving straight to Barcelona where we would be going to the airport to catch our flight to Morocco.
We had a few hours to kill as our flight wasn't until the evening so we found a mall for Taylor. You see it was a big day. Rihanna (the famous singer) had just come out with her own line of make up and Sephorra carried it. We found one so she could, ah hem, I could purchase it. The little things that make a teenager happy 🙂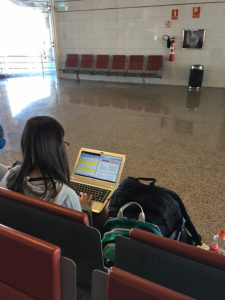 We arrived to the airport after dropping the car to a Park and Fly and had a few hours to wait until our flight. The kids did great and relaxed and played their iPads while I found the largest cockroach I've ever seen in the woman's restroom. Blah!!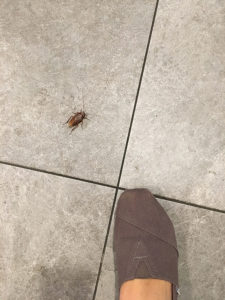 Easy flight to Morocco. We landed and had a ride set up from our Riad (hotel) and in no time we were settled into our place. We had one large room with 5 beds in it. A balcony overlooking the pool and a small bathroom. There was a kitchen we could access and the Riad had a couple lounge areas too. It was authentic and beautiful. Moroccan tiles and decor got me all swoony over this place!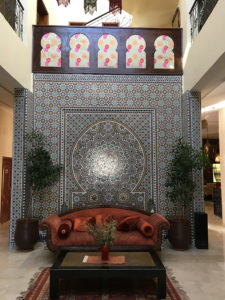 Since it was very late when we arrived it was pretty much straight to bed!
When we did wake the next morning, we had a large breakfast served. Our first taste of a breakfast included establishment! Boy were we spoiled with pastries, fruit, breads, muffins, and eggs. Yum!!
We all relaxed that first day in Fes. Mark and I ventured to the shopping center which was suppose to be 5 minutes up the road and ended up being almost 20 in Moroccan heat, but it's all an adventure, right?!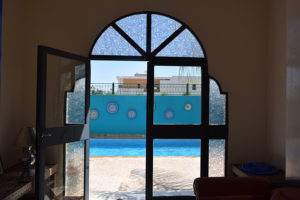 More Photos..