Reykjavík – July 16th – 17th 2017
We arrived into Iceland about 11pm. Holy Cow, was it ever light out then. We navigated our way through the airport (which btw seemed a bit jumbled, or may have just been that we had been up and traveling all day through Winnipeg and Toronto and were a tad tired). Upon grabbing our bags and figuring out that our car rental was a shuttle ride away we were set!!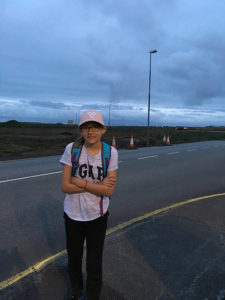 The drive into the city from the airport was great. Still light out for us to navigate the roads, less traffic than usual as it was the early hours of the morning and pretty quiet as we were pooped. We made it to the Airbnb with no trouble and were happy to settle in for the night…sort of.
See, although it was after 1am, we were still on Winnipeg time (and quite frankly, more like BC time). So as tired as we were from a full day of travel, we weren't ready for bed. In our jetlegged minds, it was only 5-6pm.
Mark and I were up around 10am I believe….the kids slept until nearly 2pm!!! We weren't sure whether to wake them or let them sleep. For sure they needed it as the day before had been so long, but on the other hand this was going to royally mess up things for the next couple days….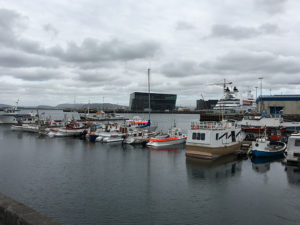 A couple hours after waking and relaxing, we drove into Reykjavik. We parked by the harbor and explored that side of the city. A few cute shops and buildings, restaurants and all the Whale and Puffin watching tour companies. We had seen a sign for Whales of Iceland. We weren't sure what it was but it sounded cool. So in we went, paid the admission and got our headsets. It ended up being pretty neat. A huge warehouse was made to look like we were underwater. Inside and hung from the rafters and all around us, really, were LIFE SIZED whales. All sorts. Interactive displays, areas for the kids and it was great! We closed the place down. For real, the ugly lights came on at 5pm and we made our way out.
We then walked a cold and windy walk to the Sun Voyager. A beautiful sculpture right by the water front. It looks like a Viking ship and is just stunning against the ocean. A few pictures were taken…and then a few more as we waited for some other tourists to get out of our shot. Finally we were on the way back to the car. Back to our Airbnb and a quick trip across the street to Metro restaurant (fake McDonalds as I call it).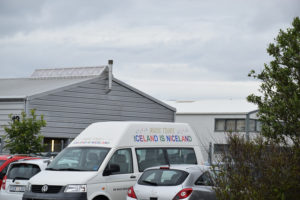 First full day in Iceland done!
More Photos..