Athens – November 3rd to 5th 2017
We woke up to our first day in Athens to a whole bunch of noise. Our outdated hotel (I swear I was in the 80's with the decor there) had thin walls and doors that barely latched and the sound traveled up and down the stairwells from other levels. We were on the 7th floor, I should also mention that being on the 7th floor was not the best floor when you have a child who has decided he doesn't like old style European elevators anymore!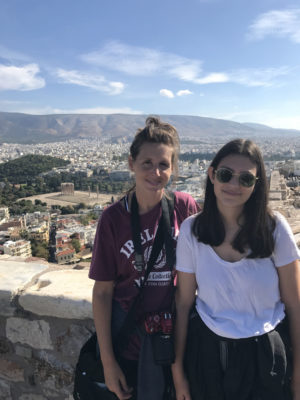 One plus and bright side to our hotel experience was the continental buffet breakfast. It was a great spread and I was happy to be able to start the day with someone else making me breaky for a change!!
We had 3 days in Athens and you know what, we were in a pretty decent area. Well, it was a little sketchy and dirty and slightly run down, BUT there was a police station right beside the hotel. Sooooo in my mind it could have gone two ways. Either the police were there because indeed the area was bad or the police were there because the area was bad BUT with their presence there was nothing to worry about. I took the latter choice.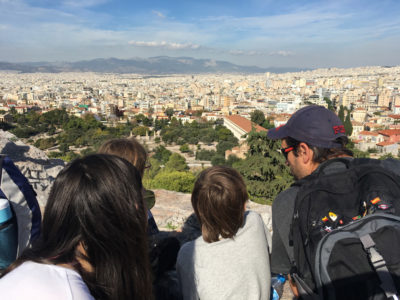 We visited the Parthenon on day one. What a beautiful sight it was to see, on top of the hill with the amazing view of Athens. Lucky for us it wasn't crowded and we could walk where we pleased and take pictures without the mass crowds. There was just something magical about putting yourself in the spot that has marked history and is documented in thousands of books. I mean, standing on the marble stairs where men and women stood thousands of years before just gives you goosebumps!! I should add that Avery loved it most as she had been studying Ancient Greece prior to our trip. I'm sure her connection was intense. Kidding. Avery hated studying Ancient Greece and those feelings probably came flooding back, haha. At least the connection was full circle and the memory she will take will be unique to her.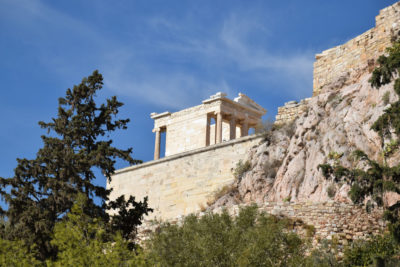 The next day was checking out our surroundings. We found a mall a couple blocks away and a new favourite shop for Greek salad and Gyros! Mark got a much needed haircut from a very talkative barber who seemed to cut hair only one way but the job got done. Mark and I also ventured around the city in search of new carry on suitcases for the kids. We were once again rethinking our bag situation and trying to make travel easier. We stumbled upon some ruins while out walking in the city and a diabetes clinic. Free sugar free soda for everyone!!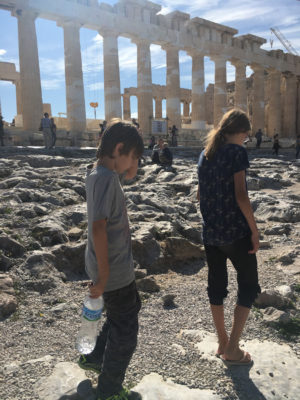 It was time to bid Athens ANTIO SAS (goodbye) and get a move on. We were headed to the airport and taking the metro. We had been so good to use up all of our Euros since this was our last stop in Europe and moving on to different currency. We had exact, I mean EXACT change for the metro. But knowing how we do things we broke that exact change to buy the kids a small snack of dried fruit from the store next to the hotel. No big deal we thought. The bank machine is right next to the metro ticket dispenser.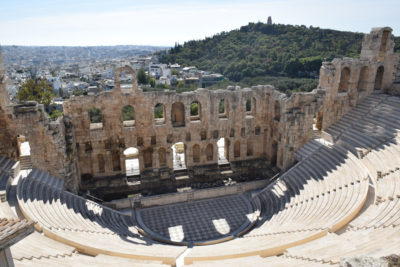 Big deal indeed. The network was down for foreign cards. The bank machines were useless to us. No cards worked, whether it be Visa, Mastercard, Debit…you name it. The network was down and we were 3 Euros short for the train. Mark made a dash to a currency exchange place as we had some US cash we could part with. The line up was so long he gave up there and searched for another bank machine. Over 30 minutes later he was back with the money. Good thing as I was getting ready to do a little Canadian song and dance and try to collect some tips to make up that 3 Euros 🙂 A little stressing but we had given ourselves extra time like usual and so all would be fine (hopefully), and all for a 3 Euro dried fruit snack.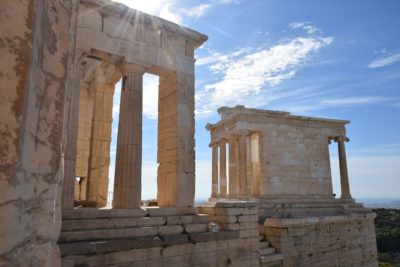 More Photos..