Santorini to Athens – November 2nd 2017
6 days in Santorini passed pretty quick to be honest. It was time to get going. Plus we were almost the last guest to check out. End of season was now here and the staff were off for a few months to travel themselves!
We were taking the slow ferry from Santorini to Athens. The 8 hour ride would depart about 3:30 and get us in to Athens about midnight. We needed to check out of the hotel and so ended up at the ferry terminal early and so just hung around there for a few hours. It was pretty quiet when we arrived and within an hour the place was filling up. Tourists were being dropped off in masses to get on the boat. We went from being near the front of the line to darn near last on the boat when it loaded.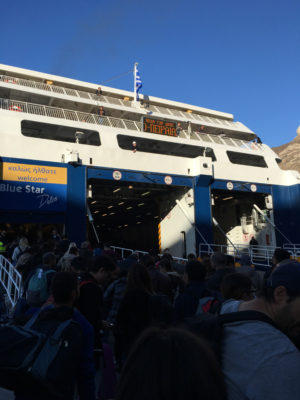 The ferry was a first come and first serve kinda of a ferry. You had general seating up top in the lounges and most people ran for the seats and most importantly the power outlets for their laptops and phones! Luckily for us we had a moment of clarity and booked a room so we could at least drop our luggage and have a place to relax and maybe take a nap.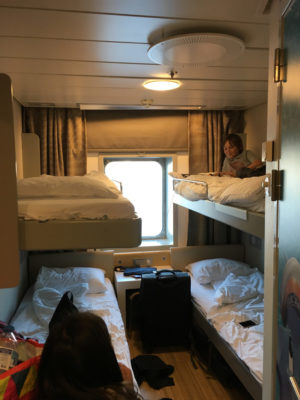 We left a little late but lucky for us that gave us a chance to see the sunset that was too cloudy the night before!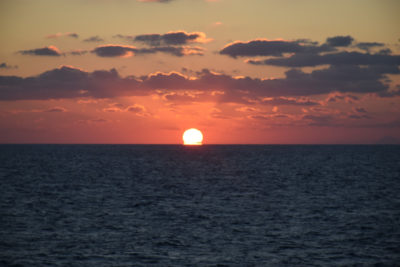 The ferry was very modern and very comfortable. Our 8 hour boat ride was over before we knew it and we were coming into the the port in Athens. We watched from the lounge (we had to leave the rooms a little early) as the ferry pulled up along side the dock. We could see a long row of cabs too. That's where we needed to go!
We all piled off the boat and it was a bit of a chaotic mess. We couldn't figure out how to get a cab as the lane became blocked off by police. Some nice people figured it out and we followed them to where a few cabs were sitting. We needed 2 cabs for the 5 of us or squish into 1. Depending on how slack the driver was we would try to get away with one cab and squish!
A sneaky cab driver pulled us the the back of the car to propose to us his rate for taking all 5 of us and he tried to explain his reasoning. How by going with him we would save money, blah blah blah. It was 12:30 and this dummy thought we were naive tourists. Little did he know, we knew he was scamming us (a bit) but we agreed to the ride.
About 30 minutes later we were pulling up to our hotel. The cab driver very nicely told us that we were staying in a very bad part of town. That it was unsafe to be out at night and he told us not to venture from the main street even in the day!! I almost teared up. I thought I had checked the reviews well before booking and the hotel had great ones…darn!!
Goodbye's and cash were handed over the cab driver, we checked into the very outdated hotel and were in our rooms by 1am. Time for sleep and we would assess the surroundings when we woke the next day.
More Photos..