Santorini – October 31st – November 1st 2017
We stayed near Black Sand beach, it was beautiful and cold!! We only made it there 2 days and didn't last too long either.
So we needed to get out more and explore and renting a car was a must, not really a must but the bus was going to cost the same as a rental and so we took the rental. When the guy dropped it off in the parking lot I had to do a double take. It was beat up and small and pretty sure older than I would a imagine a rental to be but it was cheap. Cheap, Cheap, Cheap!
We drove to Fira one evening to just look around. Little did we know how cold it would be that night and so the walking didn't pan out to too much. Just enough to get the kids some dinner and get back to the car.
The next day we went all the way to Oia. It was about a 30 minute drive from where we stayed and probably the most scenic drive we'd taken on our travels to date! It was so pretty and the ocean was just the most gorgeous color blue.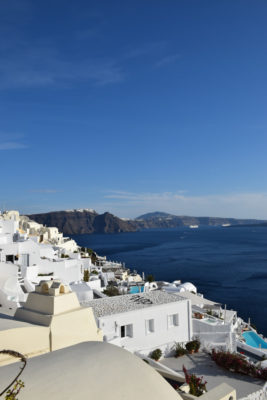 Oia ended up being the cutest and most charming hillside town I've ever seen. The white buildings just popped against the blue sea. The walkways through the town were adorable and I think we stopped in every cute shop we could. Admiring the art, souvenirs and trinkets. I tried to go down and see some places but was denied by a hotel worker, apparently most of Oia is not accessible to all.
We had explored for a couple hours and were soon going to be headed back. It was indeed cold there this time of year. It was so close to sunset that we pushed ourselves and waited it out an extra bit. I've heard all about these sunsets and was waiting to be wowed.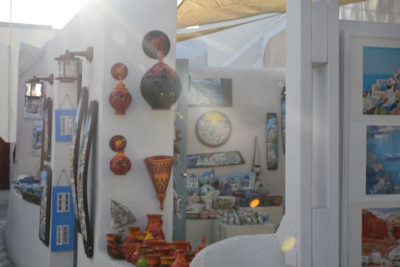 After fighting back people who clearly thought they could sit right in front of us on a wall, we were ready for the big moment. Alas, the sunset never really got there. The clouds had rolled in and we were dazzled with a beautiful night, just not THE sunset that Oia is famous for.
More Photos..