Santorini – October 27th – 30th 2017
We arrived in Santorini without any issues. Quick flight, crazy landing beside a mountain on an island in the middle of the sea, you know, the regular stuff.
The manager of the apartment/hotel we stayed at picked us up and helped us settle in. Two things were noted: It was pretty chilly out and the town was practically deserted.
I suppose it was the end of October and it was considered off season, but up until now, off season meant little to us as most places were still very busy. Santorini was a new experience for us. A very quiet experience (mostly, I'll get to that).
Our tiny place had just a sleeping loft, beds in the living area, a barely functioning kitchen and the most friendliest staff ever.
While Mark and the girls started their PADI certification course, Lucas and I hung around and kept busy. That was day 1. The course runs 4 days.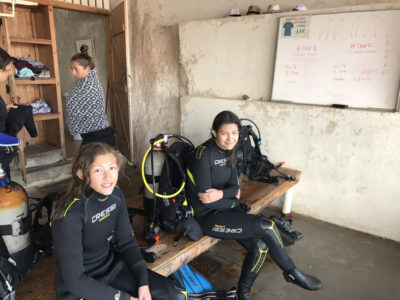 By day three we had 2 drop outs, leaving Mark to complete the course on his own. I use the term drop out but in the nicest way possible. The girls found the course much harder than expected. Both had different reasons for leaving early and have a year to complete the remaining work if they so choose. Mark passed with flying colors and was awarded his certificate and a bonus T-shirt, yay!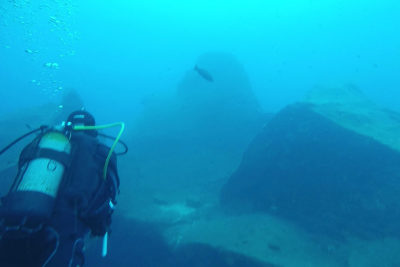 To celebrate Marks completion of the PADI course we splurged on dinner at a restaurant 15 minutes walk down the road. Kidding, we splurged almost every night!! When you can feed your family for $15 you do it. When the food is fresh and tasty and awesome, you don't pass it up. Greek Salad and Gyros for days, literally and there was never a single complaint!
One day that we were getting food there was a wedding party arriving. Car after car was coming in and parking in the supermarket lot (they were closed for the weekend). As we waited for our food to be prepared we watched everyone show up, all dressed up. Soon we were noticing a small band playing music and a few men with rifles!!! For real rifles!! More and more men were taking these rifles out of their cars. Soon they started shooting them off into the air. Right in front of the restaurant. Mark got a kick out of it. I thought we were going to die!
As we watched this crazy wedding procession go down the street I figured it would be over soon. I was so wrong! They were having a reception at a house just across from the restaurant. The shooting and fire crackers that were going off were relentless for a good 15-20 minutes. To top it off we would have to walk down the street and right in front of the house too, no way around it 🙁
In the end, we made it back alive with food for the kids and I realized how dramatic I was being. I needed to tone it down a bit, not all the way, just a bit!! The Greeks know how to put on a good show!
More Photos..