Paris – August 17th 2017
Our last full day in Paris was left open. It was the day after our long Disney day and we didn't want to overdo it. We were thinking of taking the bus to Versailles but in the end we stayed local and Mark and I took the bus to Notre Dame. The kids didn't want to join us so we gave them the afternoon off. Er. We had the afternoon off. However you look at it, the kids stayed home! (yay for older children)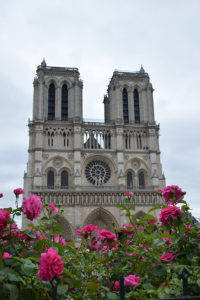 Notre Dame was busy and the line was long but it moved fast. We went in and it was amazing, beautiful and so grand. We almost went up the tower but 10 euros each was too much for our quick trip there. These churches sure know how to take you for all your money!!! We enjoyed the FREE part of the church and walked the neighborhood for a short time before heading back.
Our last night in Paris called for a treat. We had been trying to make the most of our meals if possible to save on costs but this night we needed to experience a true Cafe for dinner. Rue Cler was a cute road (no cars) that was about a 10 min walk from our flat. We chose a cute Cafe/Restaurant that would have something for all of our picky eaters.
Dinner was delicious, the kids 4.50 euro drinks were even better (NO NO NO, this is why we can't go out. Because it drives me bonkers that drinks are half the cost of a dinner!!). BUT this was our treat night so I let it go and I'm totally over it…right?!!?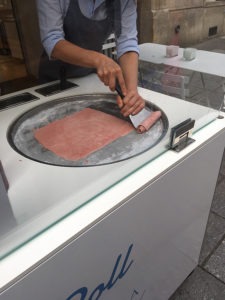 Down the street was ice cream and you can't have a yummy dinner without a yummy dessert to finish it off. The girls got rolled ice cream. The idea is neat, watching it was fascinating, the final products was meh. We tried it though and that's a good thing. Lucas wanted chocolate gelato instead so he got that and loved that they shaped it in a rose for him.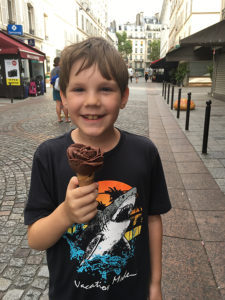 To end our lovely night, we went home and had a packing party. Tomorrow was time to say Goodbye to Paris and Hello to our rental car that would be with us for the next couple of months!
More Photos..