First full day in Ireland – July 23rd 2017
Today was to be an adventure day. The Cliffs of Moher were on the list.
These cliffs reach as high as 700 feet. In a picture it looks like a long way down. In person, it is a terrifyingly long way down!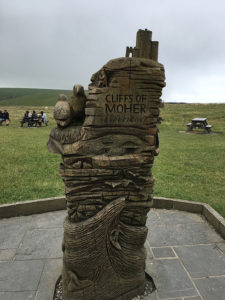 We arrived and walked along with the other tourists that were visiting. The views were fantastic. Amazing actually. Here we were, on top of the world. Or right on the edge of the world I should say. Safely behind the barrier we took pictures, admired the views and took it all in. Then we got daring! Out from behind those safety barriers we went. Straight to the edges of the cliff.
Most people were doing this. To get the better shot, the most drastic and dramatic shot for sure. I would say there was about 8-10 feet from the guard fence to the edge. We only ventured out a few feet. Took a quick photo and hugged that barrier all the way back to the exit.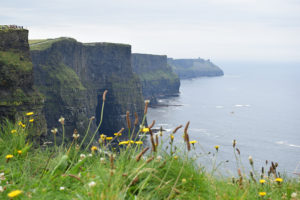 With how close some of these people were to the edge I'm surprised we didn't hear about any 'accidents' on the news.
Out of there, we were done and the weather was getting a little cool. Time spent in the visitors center was good, if you like long line ups for bathroom and water. haha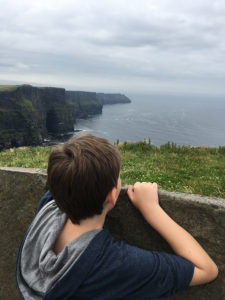 Check the Cliffs off the list and on to a top secret location. Not really, but a last minute mini adventure. Instead of driving straight to our next airbnb for the night, we stopped at an unknown place and let me tell you, it was great! Thanks for the tip Gary and Neisha!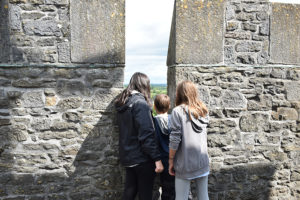 Bunratty Castle and Folk Park was our add in for the day. This was actually a very cool experience. The castle itself was set up just like it would have been hundreds of years ago. You toured the inside and it felt like you had stepped back in time. From the dinning hall to the kitchen, it all was so authentic.
The grounds were done up too. So outside the castle we were able to walk through old farm houses, a schoolhouse, church, fairy garden and so much more. There were goats for the kids to play with (as much as you can play with them) and a playground for the kids.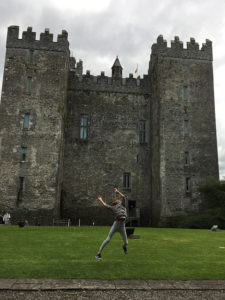 We spent a good couple hours there, closed the place down and commented how that could have been an all day adventure.
Not too shabby for our first day exploring Ireland.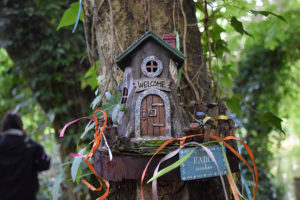 More Photos..