Road to Vik – July 20th 2017
You can't sit still for too long in Iceland. There is just way too much to see. On this particular day we were going to have a few hour drive to the town of Vik and then back. What looked like a 5.5-6 hour day on paper turned into an epic 11.5 hour day of adventure for us!
First stop was Skogafoss waterfall. This waterfall was massive in height and you could see it from the road, miles (KM's) away. We stopped and walked close-ish to it. Got a few pictures, then the fun started! We decided to get even closer. Really close!! We were getting a lot of the spray from the falls and we decided to try for another cool shot. Set the GoPro up on a rock and ran towards the falls. We had perfect timing and got a massive spray that drenched us all. We ran away from the falls all laughing. Soaking wet, we came around the bend, and with other tourists staring at our sopping wet clothing, hair and faces, they were probably wondering how wet they would get. Haha.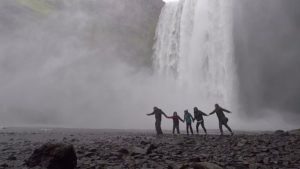 Up the side of the mountain we climbed. We had a mission to get to the top. I read somewhere there were over 500 steps to the top. I actually didn't count. But my legs were burning so there was enough steps!!
The views were amazing. They did not disappoint. We explored the top for a bit before descending back down and to the car. By now we were pretty dry and ready to hit the road again.
Next stop was Black Sand Beach just outside of Vik. The wind was strong, blowing us over almost with it's strong gusts. Lucas was not ready to venture out and so him and I stayed in the cafe while Mark and the girls explored. About 15mins later they were back and we convinced Lucas to come along and back we went.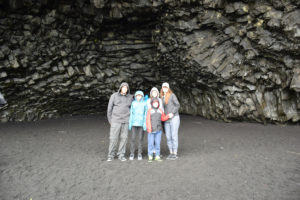 The sand was black and the rocks and pebbles too. They were smooth and shiny. Beautiful. There were some caves and some cool pillars that you could climb. We walked the beach, saw some puffins and watched out for Sneaker Waves (rogue waves that could sweep you away!).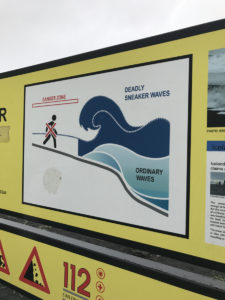 Leaving the beach full of cookies and fries from the cafe we were ready for our last stop, the amazing Slejalandsfoss waterfall. We saved this for last as we knew you could walk right behind it. It was the coolest thing to be right behind the falls. The sound was amazingly loud. We loved this waterfall. Definitely a top ten experience for myself and I'm sure the others too.
Slejalandsfoss had a cousin waterfall down the path we went to see also. Not as big, but made a mark on us as a cool waterfall nonetheless. We had to climb/hike/scale (whatever word you would like to use) the front of it to see it. This was interesting, challenging, fun and scary all rolled up into one. We took it slow and it was fine. We made it to the top, took a quick few pictures and got the heck back down on solid ground. Lucas and I high fived when we got to the bottom. Funny how I'm on the same level of accomplishment as an 8 year old. Haha.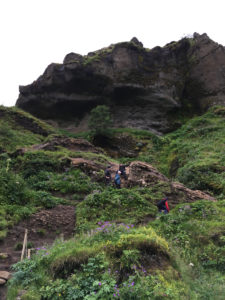 That was our day. We chased down 3 waterfalls and a black sand beach. The kids were awesome and our day was fantastic. We arrived home about 11pm while it was still light out and hung our clothes to dry. Best Day Ever (so far!)
More Photos..