Edinburgh – July 29th – 30th 2017
Edinburgh Scotland was up next. A quick 45 min flight from Belfast and we were in the next country.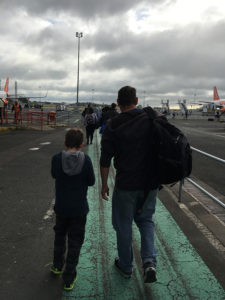 No Airbnb this time! Mark's Mom's cousin, John offered to have us stay with him and his son Michael. Our first day was spent sprawled out and relaxing, meeting with family and getting together our "Scotland game plan".
Day two was our first visit into the city with Michael as our tour guide. We took the bus (double decker, which the kids loooove) into the city and explored the busy Princes street. From there we cut over to The Royal Mile. This street was mainly for pedestrians and had a slight incline to it (sore legs = need to get in shape!). There were cute shops, awesome architecture and historic charm all around us. This street takes you straight up to Edinburgh Castle. We had planned to go in and explore today however our backpack (which contained drinks and snacks to keep the kids happy, parents you know what I mean) was too big by a bit. Size restrictions got us down and so the Castle would have to wait until another day.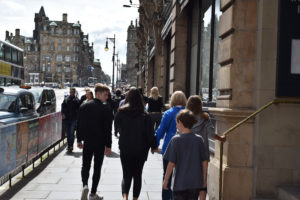 We watched a street performer for a while, the kids enjoyed it. We popped into the Scottish National Gallery for all of 5 mins. It was lovely to see all the art, really 🙂
Somehow we managed to make an entire day of city walking and exploring and we were ready to head back.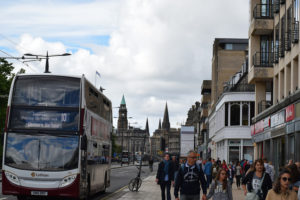 Edinburgh was so rich in culture and there was something interesting to see everywhere we turned. People were polite and even though there were crowds it didn't feel too busy as streets were wide. We saw many old red phone booths, old buildings and double decker buses galore. It was a good day! Time to rest up because tomorrow we are headed to the Highlands!
More Photos..