Giant's Causeway Tour – July 28th 2017
Our tour bus was to leave at 9:15, so we took our time. WELLLLL, at 8:50 we got on the bus and were the last ones on and from all the looks and the driver not letting Mark off to quickly grab a charger from our room upstairs, we considered ourselves late!
On the road we were relaxed (not having to drive ourselves) and excited for some new adventures.
First stop was Carrickfergus castle. Just a photo op and time to stretch our legs. It was situated close to a little harbor and was quite a pretty spot. No tour inside though. The bus driver was clear, we had 20 and we were not going to be late!
On to Carrick-a-rede rope bridge. This rope bridge was set up many many years ago by fishermen to help them catch salmon. Unfortunately there was over fishing and so the rope bridge was turned into a tourism spot exclusively. We BTW got a family rate to go in. I must say that family rates are great over here (again other attractions: take note!).
We all crossed the bridge. A little slower on the first walk over, but on the way back we were pros. The wind and sea, 20 meters below didn't make us falter (just a little freaking out on the inside!).
More Videos..
The rain picked up just as we got back to the bus, good timing for us. Next stop Dunluce Castle. We literally stopped on the side of the road for 5 mins for a picture. I need to look up what this castle is all about as I wasn't expecting a "stay to the left and don't go on the road as it's really busy around here" kind of experience ;).
Next was Bushmills distillery. 20 mins left us little time to wander too much. A short bathroom break, a look around the gift shop and we were off again. Many people were there. Seems to be a big thing in Norther Ireland. Perhaps it's delicious….I'll never know (or want to, yuck whiskey!).
They save the best for last. After 7 hours on the tour we were finally arriving at the Giant's Causeway.
There is a legend about a giant….but we like science!! Approximately 40,000 interlocking basalt rocks were formed after an volcanic eruption and the lava cooled. The rocks are almost like steps and are easy to walk on and fun too. You can get right close to the ocean as they lead right into the water. Although it was quite rough there and the waves were crashing quite hard. Mark went in an out of bounds area and got called back. Rebel.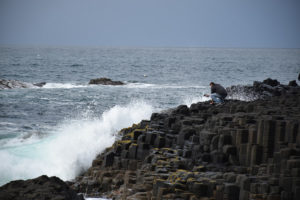 It was so neat. Highly recommend a tour there! Especially when you get back to the visitor center area where you can get ice cream. Ice Cream is slowly making it's way in as a regular on our adventure days!!
Northern Ireland was a quick visit for us, but glad we came!
More Photos..