Venice – September 2nd 2017
Our plan for the day was to head back into Venice, but after we had a bit of a lazy morning and I had done some laundry and hung it out the window to dry, the weather had other plans for us.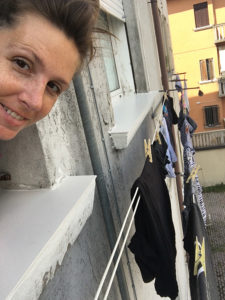 The most intense rain, wind and eventually hail came down on us. We looked and watched out our window as hail pelted down on rooftops. Laundry was quickly brought in and windows closed up tight as we watched the storm pass. Thunder and lightning accompanied this wacky August weather and made for one heck of a show for us!
The storm had passed and we didn't want to waste any more of the day so we took the train back to Venice and had a few more hours there. We all had gelato and walked about. Checked out the ferry over to Murano but ultimately didn't chose to go over. We looked at real estate there and dreamed of being millionaires to buy a home right on the Grand Canal.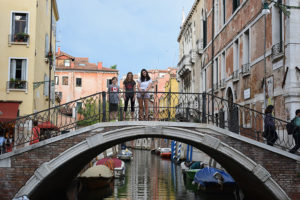 When in Venice is what we said when we splurged for a Gondola ride. It was an evening ride and the winds were picking up a bit again. Our Gondolier took us down dark canals and didn't have much to say but it was still a neat experience. Until about 10 minutes into our boat ride when the lightning started up. All around us we had lightning flashing. Thunder was rolling in the distance and we stuck on this little boat! Stuck isn't the exact right word. It was fun! We reached up and touched the bottoms of the bridges as we passed under and saw the city from a whole new angle. But the storm had us a little nervous.
The ride was over before you knew it, cut short by 5 mins and we were the last customers of the night. The boats were all tied up ready for the next storm to come in.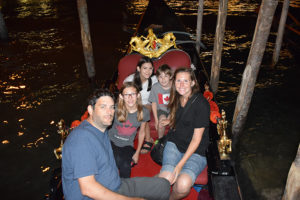 As we made our way home we had a take 2 from the previous night. Running home in the rain (although not as heavy). Venice was lovely, I mean beautiful! I loved everything about it!
More Photos..