Gansbaai – November 24th & 25th 2017
Leg one of the Garden Route complete! We made it to Gansbaai, with 2 sick kids in the back seat. Luckily there were no emergency pull overs and the drive was about 3 hours so not too bad for the kids.
Our Airbnb was huge in comparison to what we were used to. Each kid had their own room! As we unloaded bags, I noticed the sick kids were not helping. I walked in and found them both passed out in separate rooms. Darn stomach bug was hitting them hard. They needed to rest up because the next day we all had plans to do something BIG!! Shark Cage diving.
The next morning we woke and the kids still weren't well. We made the call to keep them behind with me, as I too wasn't 100% yet. That left just Mark and Avery to go. We were able to reschedule with the company Shark Diving Co for another day.
While the sickies stayed at the Airbnb relaxing, the healthy ones had a blast shark cage diving.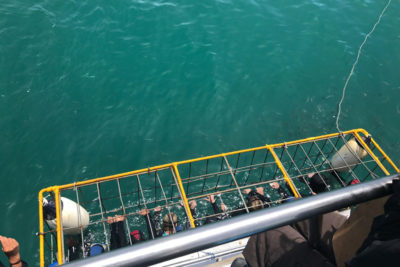 Arriving to the marina bright and early, a small breakfast is served by White Shark Diving Co. You needed your energy and a full stomach to be out in the ocean looking for Great Whites!! Of course there was a safety meeting beforehand also and an introduction to a Marine Biologist who was on the dive with them. The diving grounds were about 20-30 mins off the shore. Once arrived wet suits were to be put on and then groups would take turn in the cage.
This morning however was a little rushed. You see, for weeks and weeks there had been no Great White sightings in the area. As told by the Marine Biologist, a pair of Ocra (Killer Whale) brothers had come in to the bay and had killed some sharks. This was an unheard of event in the area and so with the Orcas around, the Great Whites left. On this morning though, as they approached the diving grounds, a Great White was spotted.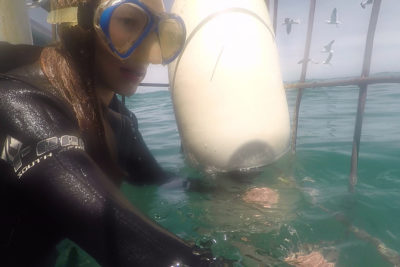 Frantically, everyone raced to get their suits on and get in the water. The staff were awesome in helping and directing everyone to ensure a seamless trip.
The water was freezing cold but man oh man, seeing the sharks come right in front of you in the cage was intense. There were also Bronze Whaler sharks around. Usually bottom feeders, but they are believed to be coming to the surface now that the Great Whites are no longer in the bay.
After everyone took their turn in the cage, dried off, and had a snack on board it was time to head back.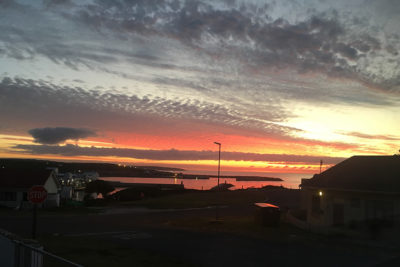 More Photos..