Mont Saint-Michel – August 19th 2017
Our busy day started with a trip to the Eco Museum by the Bay in Normandy. This was a small museum that was all about the ecology of the area. Super neat facts and displays kept us busy and engaged for a while. Outside they had areas that were set up as if we were back a hundred years ago, living on the Bay.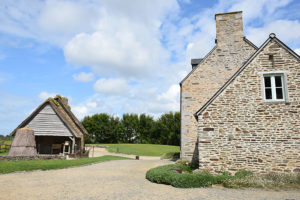 After our museum visit we were able to head back to our cottage for a couple hours to relax and have some lunch. We only had a couple hours as we were headed back to the Eco Museum for a horse and carriage ride. How fun was it to have an hour ride through such an amazingly cute town. We were able to see amazing views of Mont Saint-Michel. Lucas and Avery were lucky to have a turn up front with the driver. Actually, lucky may not be the right word. Just as we returned to the museum to end the ride, the horse in front of Lucas let a big ol fart out on him and then started to pee. We all had a good laugh, maybe too good. It upset Lucas and I feel we left with him slightly traumatized from the experience 🙂 I on the other hand would do another horse and carriage ride in a second. They are so relaxing and fun!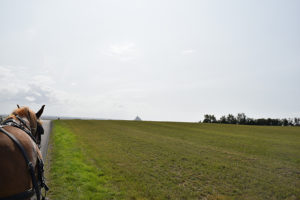 We drove to Mont Saint-Michel next. Parked the car and grabbed the shuttle to take us out. You see, Mont Saint-Michel is out in the water, about a 1km off shore. You can walk out to it, but you can also be lazy and take the shuttle.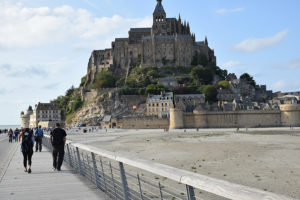 We arrived and went inside the walled city. It was like stepping back in time. Medieval times! There were adorable little stores, beautiful restaurants and hotels all tucked away in the small space. We were there to explore and see the views. They were fantastic!!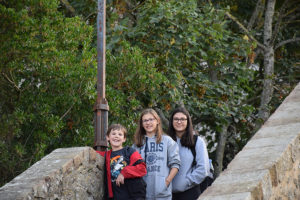 We were also at Mont Saint-Michel to see the Abbey. Used way back in the day and now only used for tours. We twisted and turned all through on our tour. We were doing the evening tour and that entailed some scary scenes for an 8 year old, but just walking through the old Abbey and learning about the history was very interesting. After about an hour we ended the tour and popped out to a beautiful sunset. Breathtaking actually. We took pictures and really soaked in the view before leaving.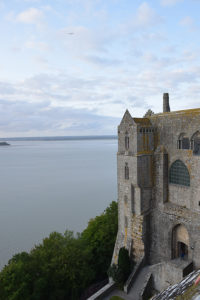 After leaving the Abbey and Mont Saint-Michel, we decided to fly the drone down by the beach as the sun was setting. How beautiful those shots would be!!! That is if the drone didn't have a hissy fit and toss one of it's propellers off. And by the time we figured things the wind was just too strong. No drone shots for us, and no shuttle back either. We were feeling adventurous and walked the whole way back to our car in the dark, late at night, after a long day. YAY us!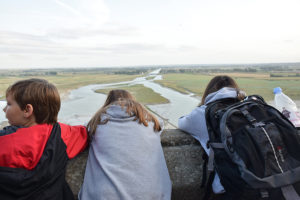 More Photos..