Juno Beach – August 20th 2017
Our Normandy time was short and on the way to our next town we were happy to be able make a pit stop at Juno Beach.
Juno Beach was an important stop for Mark and I as it held so much Canadian history. We had studied WW2 in school and today, Juno Beach was going to give us the full circle connection of learning and seeing and experiencing it all in one.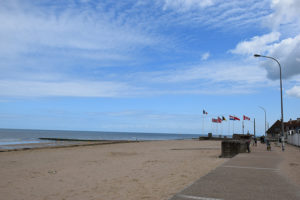 Juno Beach is where the Canadian troops landed and took back the country of France along with other allied members from Nazi Germany. Brave soldiers rushed the beach after coming in by boat. So many lives were lost here, but this was the beginning of the end of the war.
There were memorials set up along the beach. We went to each one and read them aloud. The kids listened and Lucas had many questions. This was fantastic as being the youngest, he hadn't learned too much about the war yet.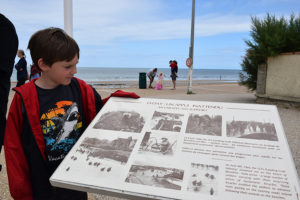 Juno Beach gave me chills, good chills. That after learning about this in school many moons ago, I was able to see it with my own eyes, really imagine it. No text book can ever give you the feels like visiting a place!!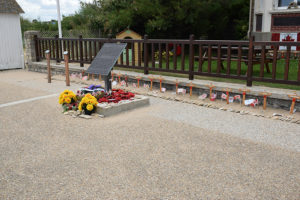 After Juno Beach we drove for a bit and came to our next pit stop, The White Cliffs and the Etretat Arch. We arrived to a very very busy town. Parking seemed to be impossible at first. The crowds were huge. We had no idea the Cliffs were so popular.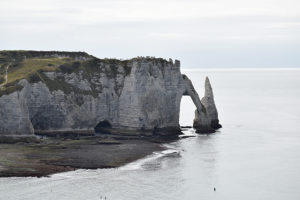 We were almost decided to leave after a city drive through but thought we would try one last spot to park. *Ding Ding* Success!! We found a spot on the road and walked about 20 minutes up a residential street with GORGEOUS homes.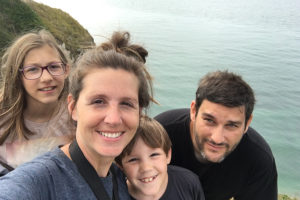 We came to the top and had fantastic views of the Cliffs and the Etretat Arch. We explored for just a short time as we wanted to get back on the road and had a few hours drive to Belgium still ahead of us.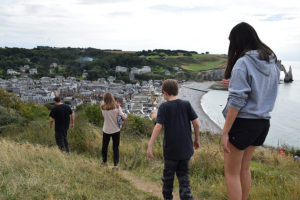 Hours later we arrived in a little town just outside Brugge. It was dark, the address was vague and we got turned around a bit, but we finally made it to our super cute (and mini) accommodation. I'm thinking it was about 300 square feet for the 5 of us, but it worked. We were exhausted so I'm pretty sure we would have crammed into 50 square feet all together.
More Photos..