Vias – September 11th – 14th
We woke up and the boys went in search of speedos! Lucas was not happy about this. My little creature of habit and comfort was going to be pushed outside his comfort zone. He knew and I knew it! Mark scouted out the store first and found his pair, we went back shortly after to get Lucas' pair. They ended up not being your typical speedo when you think of the little itty bitty suits, but rather swim material (like a womans suit) made as form fitting short shorts.
Mark and Lucas got used to their new swims shorts and in the end it wasn't so much a big deal. Except Lucas still tells us he wants to throw them away (we are hanging on to them just in case we run into weird swim laws again).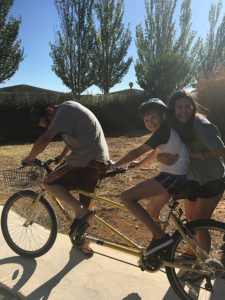 The resort had no lifeguards, it was only security at the pools. Their main jobs was to make sure no one was going in the water with swim trunks (Mark witnessed a man being kicked out for being in the water up to his ankles because he was wearing board shorts!!). The ironic part of it all was that the security was wearing board shorts, so they (by law) couldn't jump in to save anyone!! A tad messed up at the Domaine de la Dragonniere.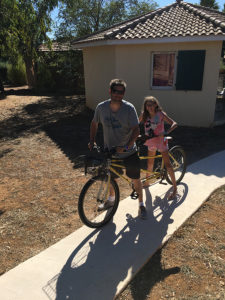 We realized that first day, when Lucas was having his tough time with the swim shorts, that we left Taylor's entire make up bag in Nice, oh crap!! She was devastated, as was I. It was my fault for not doing a sweep of the place before we left. I had been doing this every place and for some reason I didn't in Nice. We got on the phone to the hotel and they had found it and were keeping it behind the desk. We set up UPS to pick it up and after a few failed attempts to pick up and deliver it and much stress and planning, Mark drove the 2 and a half hours round trip to the UPS depot to pick it up.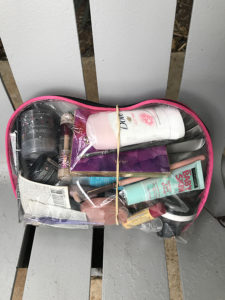 During our other days at the Domain, we swam, went into the little town and to the beach, danced a little at the night time show, hung out in front of the store where there was communal wifi, rented a double bike, had a drastic (and much needed) haircut for me and relaxed.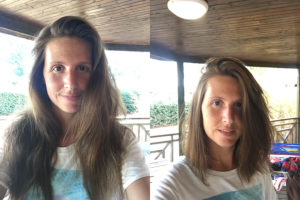 The Domain was an interesting experience. The camp offered so many things and it was all close by. Almost all inclusive, but no food or drink included. The security were a piece of work and it was clear they took their position of "power" to the extreme and had major egos. We also noticed that as much as it was a family place and many kids, they were much younger and not too many people cared to speak to anyone else. They just kept to themselves. Would I do it again, YUP for the price we paid! Would I give the security a hard time every chance I got, you bet!
More Photos..