Pompeii – October 11th 2017
Today was a big adventure day in Pompeii. Ever since I was a kid I remember the stories of Pompeii. Learning about it in school was fascinating and I was so excited to see the ruins in person.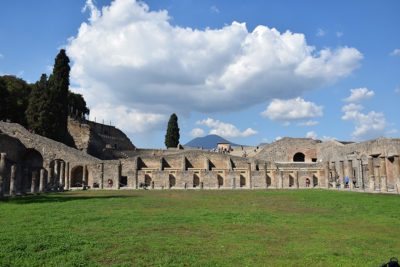 We splurged for a tour guide for a couple of hours (normally we keep a tight budget) and after getting into the park (which in the end was more difficult with the guide and took longer) we were ready to explore.
The guide ended up being absolutely fantastic and made the ruined city come to life. We went and learned about what the last day may have looked like for the Ancient Romans. The guide was actually so fantastic you could envision the city all around you. He made the ruins come to life by describing what would have been there and how it looked. Where the second floor of homes would have been to the area where the food was prepared. One home he took us to had belonged to a merchant. A very wealthy merchant in fact. He lived in a massive home around 19,000 square feet with lush gardens in the middle courtyard and beautiful mosaic tile work. The upper class sure did live like kings.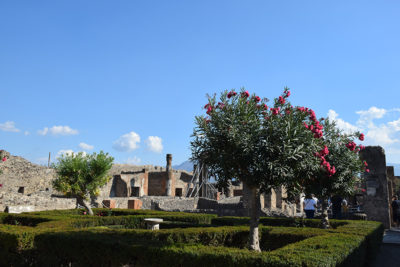 We learned that the Ancient Romans were excellent architects and also had indoor plumbing and heating in the bath houses. The bath house was actually one of the best preserved buildings left in Pompeii. It's dome roof withstood the weight of all the ash from Mount Vesuvius and preserved the original mural art work.
Pompeii exceeded our expectations and after 2 hours of being guided around we were free to roam the site for as long as we wanted.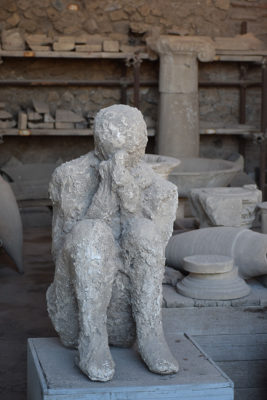 The kids jumped through the streets, checked out the fountains and ran through the amphitheater.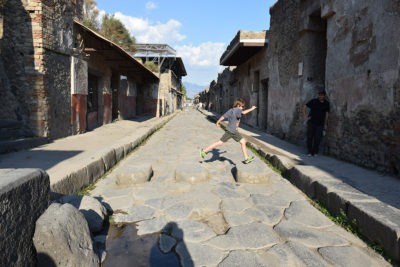 It was a great day, one of the best so far. Places like Pompeii are exactly what our kids need. Big open spaces to run and touch and jump and explore and still be a kid all the while learning about our world.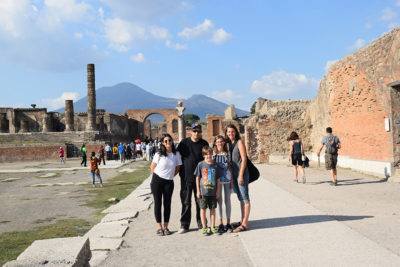 More Photos..