Mount Vesuvius – October 12th 2017
Vesuvius take 2! We had actually driven up to Vesuvius on our way to the Amalfi coast and were going to explore that day however high winds had closed the park and no entrance was allowed. So today was our redo day.
No winds and clear-ish skies were in the forecast, perfect! We arrived to a very, very busy parking area so we drove past the parking and went to a small gift shop/rest stop a ways past the parking. We discovered that the shuttle would come pick us up from there which was perfect. The shop owner (a very talkative woman) was trying to get us to buy snacks and used the words "I help you, you help us". I took this as a strong push that she expected us to buy something. We told her we would buy lunch when we came back. I suppose this was in exchange for leaving the car. Who knows, it was kinda weird to me.
So the shuttle came, took us as far as he could and we hiked the rest of the way to the base and entered the park area. The hike up to the top of the crater was not hard but it was slow. I felt a bit of sadness for my health when an older lady in low heals passed me.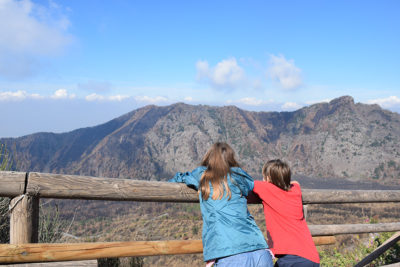 It took about 30 minutes to reach the top and we had great views down to Naples and the sea. Steam escaped in some spots and quite honestly it made me a little nervous. Who knows when it would blow up, from what we knew it was overdue!. That and the fact that safety fences were so not available in many places. Note to others going: watch your littles!!!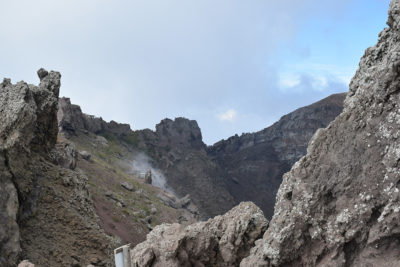 We spent a good hour wandering around the top and taking pictures. Looking at the little gift shops and buying postcards. Soon it was time to head down. That was much faster than going up!!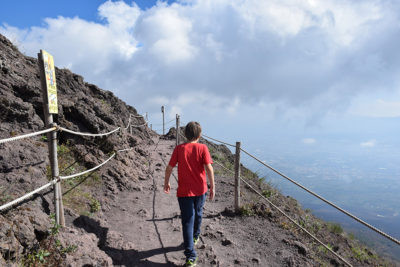 Making it down to the car park we kept our word and ordered food. Little did we know it was straight out the freezer in a microwavable dish and we were charged 9 EUROS each! Ugh. Add that to the over priced entrance fee to the park (although I'm still glad we did it) and we blew our budget.
The kids enjoyed (for the most part) the day. The hike up was bit whiny (ok, I whined too!) but the kids totally understood the whole Pompeii – Volcano deal seeing it for themselves. It wasn't just an image now, they could see exactly how and where it all happened so long ago. This whole world schooling thing was working out quite nicely!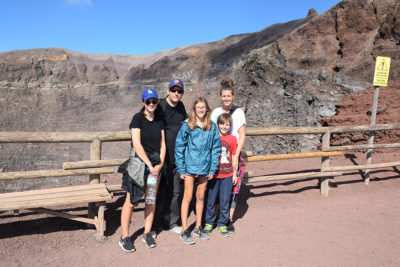 Quick pit stop to Sorrento on the way home for some gelato (of course), cruising the shops and dipping toes in the ocean and we were ready to call it a day!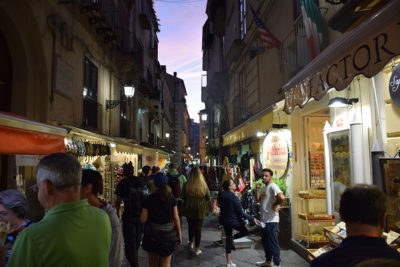 More Photos..