Amman – November 9th 2017
One of the last days in Jordan we explored the city of Amman. We had the car rental but didn't dare try to drive it into the city. Traffic was a whole new ballgame over there! We contemplated taking the bus but I was a little nervous about that and so we hired a driver for the day.
Our hotel set it up. A little on the pricey side, but can you really put a price on sitting back and relaxing while someone else battles the after work traffic jam! 🙂
We left in the morning and made it to the Roman Theater in the city. A super cool old ruin still intact right in the middle of a bustling city. We climbed the steep steps and made it all the way to the top. FYI, if you are afraid of heights, don't attempt this!!
After the Theater we drove to the Amman Citadel. Another site right in the heart of downtown Amman. A citadel is a a fortress, typically on high ground, protecting or dominating a city (I didn't know that at first). It was interesting to walk to the ruins and see the old buildings (some very well preserved) and find out that there was evidence of the citadel being occupied nearly 10,000 years ago!!! As it stands today, it is believed to be the oldest citadel in the world that is still occupied (on occasion anyway) by Bedouin people. The history lesson for today was mind blowing!! haha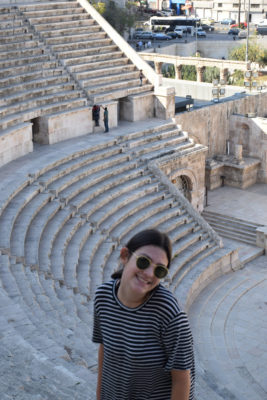 We finished off our city tour on a shopping street, which didn't turn out to have much shopping but had a burger place and we had a great lunch while our driver was happily waiting for us, or stewing mad as we were taking too long. Not really sure but in the end we had a great time exploring!
More Photos..