Dubai – November 21st 2017
Leaving Cairo we gave ourselves many hours to be safe. Traffic was unpredictable and so we had an early ride to the airport. It worked out well and the kids were able to get some pancakes from McDonalds for breakfast at the airport. I was still unwell but Cairo airport chairs are pretty comfy and I settled in and waited for the flight.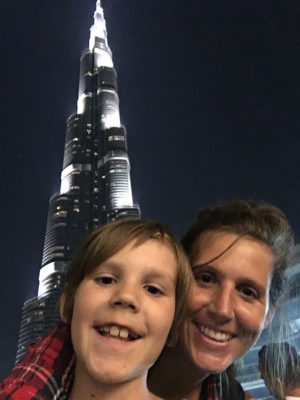 Once at Dubai we had exactly 10 hours until our flight down to South Africa. We needed to check in a few hours before so a total of 7 hours to explore. ANNNNND GO! We only had carry on bags as the rest of our luggage was checked all the way through, so that was awesome. We made our way out the airport to the metro, hopped on and to the mall we went. The Dubai Mall was the largest and most grand mall or building I've ever seen.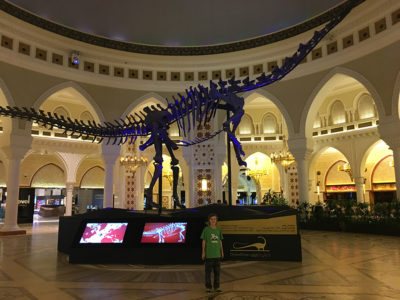 We are talking, 5 story fountains, massive aquarium displays, dinosaur displays and so much more. We were excited to find a Tim Horton's. I dragged my sick butt around that mall for hours to find it but sadly didn't have an appetite but the others had no problem getting their fill!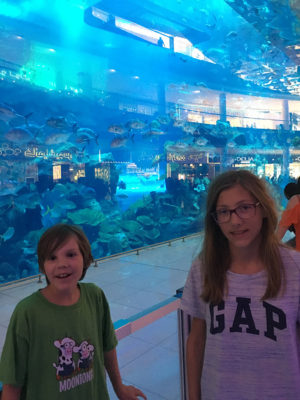 Seeing the tallest building in the world, the Burj Khalifa is obviously a must do while in Dubai. There were talks of going up too, although there was a long line and we were unsure. Upon asking about times, there was an available one immediately for Mark and the girls. They jumped at the opportunity and Lucas and I stayed on the ground and went to watch the fountain show outside.
We met up about an hour later and made our way back to the airport. I was getting hungry by then and opted to buy some soup and water from a small cafe. Oh my gosh, the soup was good, but the water….I paid $7.50 for a small bottle…as you can see as I type this I am totally not over it.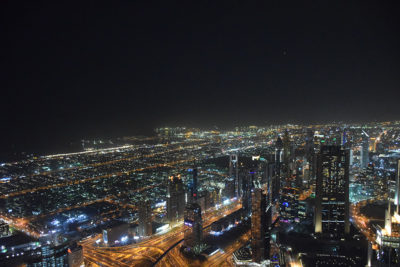 Dubai, you were amazing and grand and special and expensive. $$
More Photos..