Barcelona – October 4th 2017
The day after the strike we finally made it into Barcelona city! The day after the strike was a toss up whether full service would resume on the trains so we took a chance and headed to the station.
The train arrived (albeit a bit late) and we hopped on and enjoyed the ride into the city. We arrived at Sagrada Familia and boy oh boy it was busy around there. Not knowing how busy things are and not really researching too much we missed out on tickets to get inside. No worries, we took some touristy photos outside anyway and then walked about until we made it to Las Ramblas street.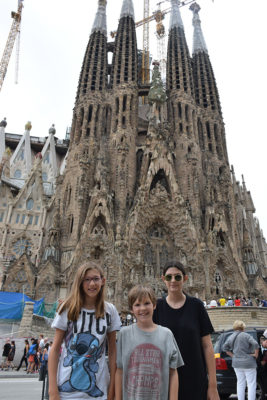 Las Ramblas is the perfect street for us. No cars!! It was beautiful with it's huge trees overhanging the street and so many fun souvenir shops along the way and street vendors (legit or not). We walked for a bit and just took it all in.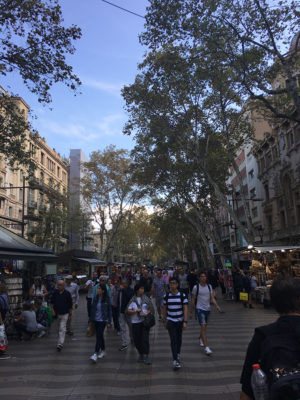 Then needed to make our way to The Magic Fountain. We heard the fountain show was great and so as we arrived we were surprised no crowds were starting to gather. Well, we found out the reason. No show! The off season had limited hours and we had just squeaked into the off season time. Total bummer but we were at the Art Museum or Museu Nacional D'Art de Catalunya. The grounds are gorgeous and have awesome views of the city. So although we didn't intend to visit the museum grounds (it was closed and we never went in) we loved wandering around outside. Watching the sun set and letting the kids burn off some steam.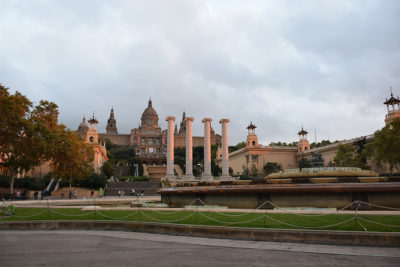 As it was getting later we walked down the street to make our way closer to our metro station. A glass elevator caught our eye and we went to explore. Turned out to be a mall and you can pay 1 euro per person to take a glass elevator up to the roof. Sounded fun to us, and up we went. Many fancy (to us) restaurants were up top on the roof of the mall but we needed to pass those up. For our brood, less is more 🙂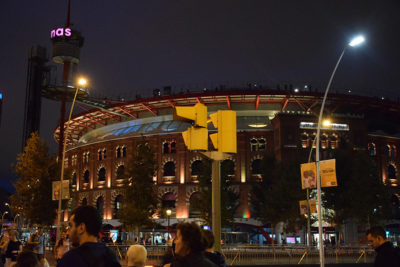 We arrived back to the metro station to take the train 'home'. Perhaps because of the strike things hadn't exactly gotten back on track (see what i did there, pun pun!) or trains just run late in Barcelona but we waited over hour for our train to arrive. Lucas was begging to take a cab home worried that we would be stranded in the city. We did eventually make it home to our awesome airbnb (a little bit of sarcasm there!)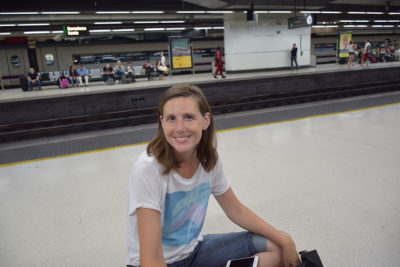 More Photos..