Aswan to Cairo – November 17th 2017
Our last day on the cruise was a quiet day. It actually was check out day and most people trickled off the boat in the morning. Our flight wasn't until later in the afternoon and the ship allowed us to stay on board and use the facilities for the day. Minus our room which needed to be prepped for the next group coming that day and minus the buffet 🙁 . We did spend the day up on the deck in the pool and lounging on the chairs. Also watching all the felluca boats in the harbor.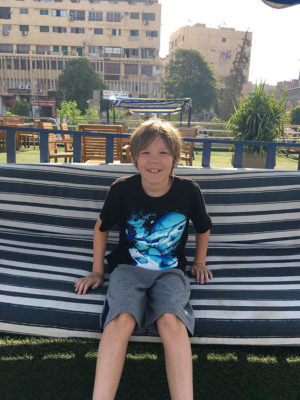 Soon we hopped in our taxi to the airport. Up, Up and away we were off to Cairo for the next few days!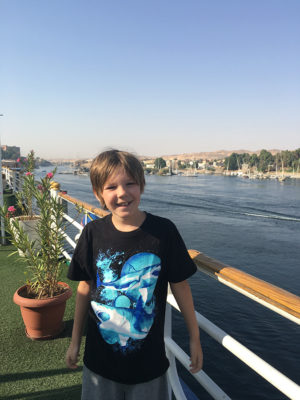 After enjoying our first EVER time in business class (kidding, there was no difference on this small plane but we had to buy business tickets nonetheless because economy was sold out!) we arrived to Cairo and our hotel had sent a driver….a driver of a small Honda sedan with half a trunk full of stuff already. Hmmmmmm….pretty sure they knew we were coming with 5 people and 3 large suitcases. haha. An UBER driver was called to handle the rest of us and we split up and started the near hour drive to our hotel in Giza.
I must say I am shocked we made it to the hotel. The driver was beyond a speed demon. He was weaving in and out of traffic like crazy, brushing up against the cars in the next lane almost and laughing at me when I would freak out a little. Pretty sure it made him go faster!
Upon arriving at our hotel we were greeted by the loveliest hosts with drinks and a special souvenir. Because it was now later in the evening, we were invited to the rooftop deck to view the pyramid show that happens nightly.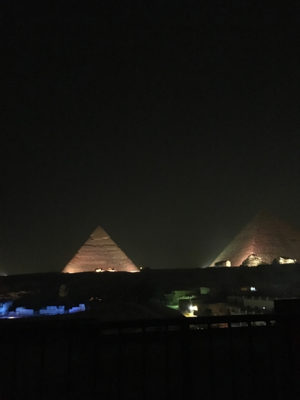 For the first time in a while I heard ALL the kids gasp in amazement. Pretty sure the pyramids were going to be one of their most memorable moments on the trip!
More Photos..