Luxor to Aswan – November 14th – 16th 2017
We had two rooms on the cruise to accommodate us. More than enough space and all rooms were outside cabins with large windows where you could see the river.
Our cruise was fantastic. We had more than enough great food every day and we treated to a Belly Dancer show on board one night also!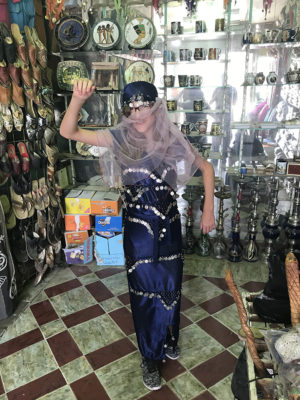 There was a rooftop pool for the kids to play in (albeit small), it gave a nice cool break from the intense Egyptian sun while on deck!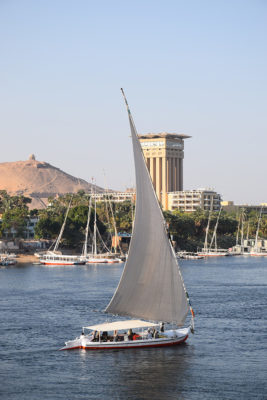 We experienced vendors coming up to the side of the boat as we were going down river. They would toss up items to us and I suppose collect payment somehow. We tossed everything back. haha. Poor Lucas thought they were pirates and was not happy about it!
We left the kids sleeping one morning and took an early (6am) horse and carriage ride to a nearby temple and explored on our own for a short time. Made it back in time for breakfast and before the kids had even woken up!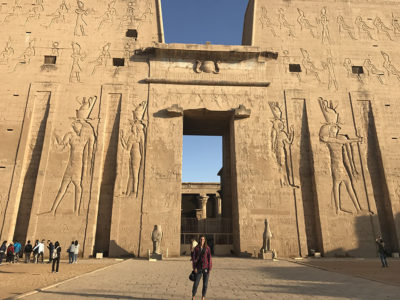 The last Temple we saw was the Temple of Kom Ombo. This had many images of Sobek, an ancient Egyptian deity that was associated with the crocodile. The kids enjoyed this temple more I believe as it was fun to find the images of Sobek on the walls and we also were able to tour a small crocodile museum which had some interesting displays (sorry, no pictures allowed there).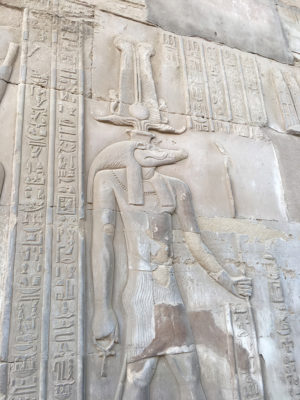 On our last day we had arrived to Aswan and there was one last tour of the dam to take, we opted to skip this and just enjoy a day in the sun on deck. We did take a bit of time away from the boat and walked to small shopping street area. We ended the day watching the felluca boats sail down the river.
National Geographic magazine moments for 4 days straight. Some of my favourite times were just sitting on deck and watching the locals on the banks of the river fish, clean dishes, or play soccer. The Nile cruise was breathtakingly beautiful. I highly recommend one to anyone out there. Like, right now, go and do it!!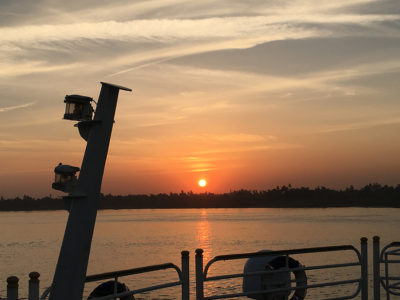 More Photos..