Valencia – September 29th – October 1st 2017
Our days spent outside of Valencia were relaxing and lazy for the most part. A quick walk to the beach was perfect. Only a block away and we arrived at a beautiful beach (apart from that there was no sand almost it was all rocks). The sea was cool and a little rough but I believe Mark and Avery braved the water and swam. We watched fishermen from the shore with their huge rods stuck in the sand. Pretty sure they were fishing for something BIG which is why I didn't want to take the plunge in that water!!!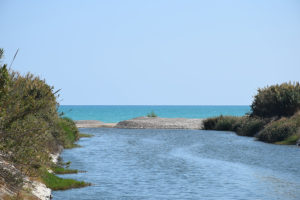 The town we stayed in was very small. Most places were closed on weekends and restaurants were almost all finished for the season.
We did venture into Valencia for a day to explore. 45 minutes away and a couple tolls (ugh, tolls!) and we arrived to a beautiful city. Much bigger and busier than where we had been staying. Traffic was intense and driving in the old part of the city proved a tad stressful. We were looking for a nice square to start our exploring. The day was busy and parking (because of our roof storage system) was difficult as we couldn't use the underground garages. A spot was finally found at the metro station. Not entirely sure at first if we could park there and some 'helpful' but more like inebriated man tried to help. In the end we were pretty sure we paid for the parking and had a couple hours.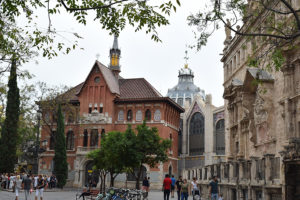 We walked the streets a bit, saw some cool Spanish architecture and cute little cafes. Found an awesome little shop that kinda had everything so we picked up some travel pillows and then off we went. City exploring done. By the time we had parked and explored only a few hours had passed but we wanted to be able to check the beach also.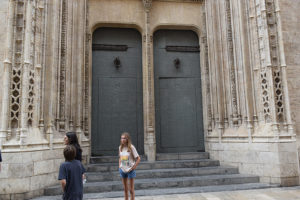 On a recommendation we went to Patacona beach. It was beautiful. It had a long boardwalk, lots of restaurants and the sand stretched forever! A little chilly out and no one really swam but we enjoyed the sand on our toes and found some fun shells and rocks.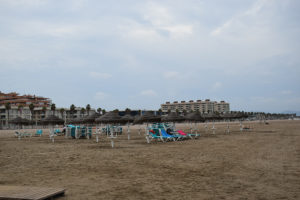 We went to eat at one of the restaurants and we were on the search of a Paella. That was one food we wanted to make sure to try in Spain. We found a place and had a seat. Prices were up there and so we needed a few minutes to get creative with the menu. Our waiter gave us a couple minutes before coming back to tell us the kitchen was about to close. Then the manager came over and put the pressure on us. We decided that since they needed an order in and we couldn't decide right then we should just leave. The waiter, who started off pleasant soon became a jerk. Not happy with us for needing a few minutes to decide. The kicker is he told us to come in to the restaurant in the first place and never mentioned us needing to order in 3 minutes. Oh well. Up we went away from the place that lacked customer service and might I add, people skills. We walked down the beach a bit and ended up at a restaurant that was again recommended to us by our airbnb host. Funny that we ran into her and her family there!
We had a great meal, shared a delicious dessert and called it a day. Our time in Valencia was short but the city was beautiful.
More Photos..