Paris – August 14th 2017
Paris day 4, time to explore. My goal was to make it to see the Arc de Triomphe. Perhaps walk down the Champ d'Elysee. Pretend we've won the lotto and shop till we drop.
We walked the whole way to the Arc from our airbnb which was a good bit of a walk. We got there and walked under the road through the tunnel walkway to get nice and close. There was no intention of going up when we left the flat earlier, that quickly changed when we arrived. We paid admission, went through security and walked the steps up. So. Many. Steps. But we did it and the views at the top were fantastic. There were some neat displays inside and just knowing we were at the top was so exciting. Well worth the sore legs that may be coming the next day.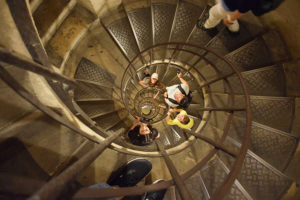 FYI, Rick Steves says we can use the elevator to go up. His info is incorrect and/or outdated. Only people needing assistance can. We saw a near scrap when a lady wanted her able bodied mom to be able to use the elevator.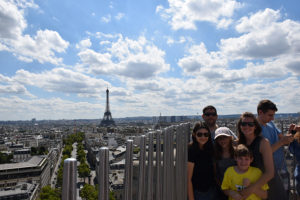 After we finished at the Arc de Triomphe we did in fact spend some time walking the Champ. Not going into shops but in search of some lunch. Who would have thought we would find a Five Guys Burgers there.
In the evening we headed out to the Eiffel Tower. We had been seeing it light up every night from the windows of our flat and after 9pm every hour on the hour there was a little light show of twinkling lights.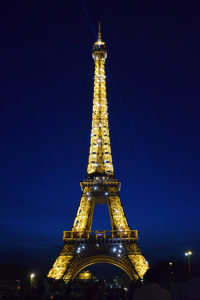 We found a great place to sit, and to our surprise there were hundreds of people there. Sitting, picnicking, playing and drinking! Yes, Europeans know how to live it up and there were many bottles of wine being opened all around us as people enjoyed the night.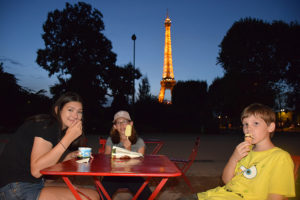 There were even vendors (I say this loosely. There were sleazy men selling bottles of wine and cigars out of plastic bags, but hey it's convenient I suppose). When it got even darker the souvenir vendors came out in full force. Trying to sell you glow in the dark flying things and arm fulls of mini Eiffel Towers for "only 1 euro!". SURRRE buddy!
The light show was amazing and after we were fully Eiffel'd out for the evening we walked home to bed.
More Photos..